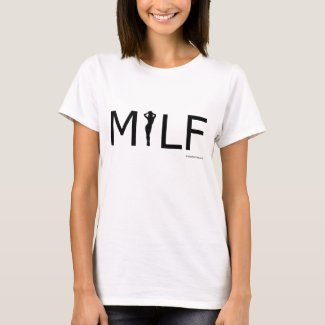 [The classic t-shirt, made specifically for women. Pre-shrunk, 5.0 ounce 100% super-soft cotton, baby jersey knit. Coverstitched 3/4" bottom hem and sleeve opening. Custom contoured fit. Made by Bella.]

Now that I got your attention, let me get to the real focus of this blog:

So much hullabaloo going on about signing the memorandum of agreement (MOA) on ancestral domain with the Moro Islamic Liberation Front (MILF). So much so that on Sunday (Aug. 3) the Supreme Court stopped the signing to the consternation of those who had already left for Malaysia on Tuesday (Aug. 5) to write their signatures that would 'seal the deal' so to speak.

The causes of the temporary restraining order (TRO):

In Zamboanga and Iligan, residents staged a rally against the government-MILF deal. Placards proclaimed: "MILF go home!" "Vote NO to what you don't know!" Ultimately, what caused the unanimous decision of the Supreme Court to grant the TRO were not the street protests but the petitions filed by the provincial government of North Cotabato and the city government of Zamboanga.

Let's spend a moment analyzing the issue.

How come the rallyists led by Cotabato Vice Governor Manny Pinol Zamboanga City Mayor Celso Lobregat are against the signing of the MOA? What are they afraid of? In newspapers, I read that people like them fear that through this MOA, an 'independent Muslim state' will be created. But isn't the creation of such a territory where the Bangsamoro can govern themselves and decide how to use and allocate their own resources the whole point really? (For a bird's-eye-view of this conflict I'm referring to, read the blog entry below entitled 'Why do the Bangsamoro feel bad?')

Apparently, those who don't understand what the MOA signing on ancestral domain entails, fear that the citizens of an independent Muslim state will have the power to choose any form of government – "even theocracy and anarchy." The misinformed further fear that this independent Muslim state will have its own police force, civil bureaucracy, financial system, personal and family, commercial and political laws, and get this - even an educational system that "will teach undemocratic political values and intolerant religious ideas."

My reactions: It's true that Non-Moros (and Moros) not privy to the negotiations aren't sure what the MOA on ancestral domain is about – and something indeed should be done to avoid jumping to unfair conclusions and judgments, especially about what the Muslims will do when they're 'autonomous' in the truest sense of the word. Voicing out opinions that show distrust in Muslims ability to handle autonomy doesn't facilitate peace at all but only succeeds in deepening animosity. Is that what we really want? Politicians, of all people, are supposed to be diplomats for chrissakes!

One can't help but wonder where this lack of confidence in the Bangsamoro's ability to rule themselves come from? Some might retort: the Bangsamoro were 'given' the Autonomous Region of Muslim Mindanao (ARMM) but their leaders messed up big time! But then again, this assessment is too simplistic. The corruption, poverty, illiteracy, and what not, proliferating in ARMM have to do with many factors. Putting the blame of ARMM's 'condition' solely on bad leaders is, I don't think very reasonable, simply because other regions in the country have bad leaders but they're not as hard-up as the regions in ARMM.

So what is the problem? In the few times I have visited ARMM and talked and listened to the people there, I must say that BLATANT GOVERNMENT NEGLECT is hugely to blame. Places like Tawi-Tawi, Sulu, Basilan, Maguindanao, and Lanao del Sur are part of the Philippines yet the kind of autonomy that's afforded to citizens living here through the ARMM is like a bird in a cage that's big enough to fly around in but still not big enough as the vast open space outside the cage. In short, there are more CANNOTS that CANS. (To understand what I mean, just read the blog entries below entitled 'Why do the Bangsamoro feel bad?' and 'Is ARMM enough?') Understandably, the Bangsamoro strongly feel that only through ruling themselves – without any external interference – will they be better off.

For those cynics out there, it's good to be aware that many non-Moros simply refuse to see the validity of the Bangsamoro struggle for self-determination because of self-interest. I bet that those who are most vocal in showing their dislike of the MOA on ancestral domain are big landowners themselves. (I know for a fact that one Senator owns a piece of land in Basilan. So of course, he doesn't like the idea of returning to the Bangsamoro what is rightfully theirs.)

I will continue this piece tomorrow for now it's already 9 p.m. and I'm all alone in the office that's getting more creepy by the minute. (The knocking on the glass just won't stop.) Anyway, stay stuck. Reserve your comments for tomorrow when I finish my piece. Till then.